Training school of evangelist who teach knowledge of the Bible and life of faith
"And Jacob went on his way, and the angels of God met him. And when Jacob saw them, he said, This is God's host: and he called the name of that place Mahanaim." (Genesis 32:1,2)
The internet today enables people around the world to share knowledge and information beyond time and space.The Good News Theology School was established in order to teach the bible systematically using the Internet as a tool to those who are interested in Christianity.
Good News Theology School provides lectures in 8 languages: Korean, English, Chinese Spanish, French, Turkish, Cambodia, Mongolian which is spoken by 70% of the world's population. It gives so much hope that ministers will arise from Africa, America, Europe, China and India through this online Good News Theology School.
Good News Theology School will be teaching biblical knowledge and life of faith and will have less than a month of on-site lecture annually in order to raise born-again ministers through spiritual fellowship and exchange between the students.
The graduates may work as ministers of the Good News Mission after completion of the two-year course, exams and prescribed requirements.
Education Ideology
The Good News Theology School aims to train Ministers with an "Orthodox Evangelicalism" base, which includes knowing the precise Gospel in the Bible through information and communication media for students around the world who have difficulties attending on-site lectures due to time and space constraints.
Education Goals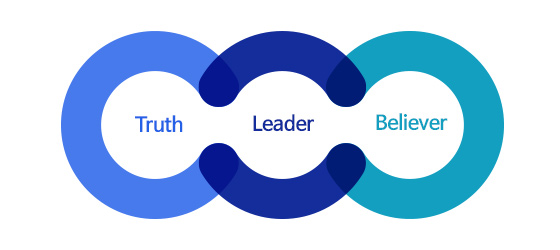 Truth

To help the laity in the world realize the truth of the precise Gospel in the Bible.
Leader

We are raising gospel leaders in the world.
Believers

To lead believers to live based on
theological theory and learning.